>
>
>
>
Airport Stakeholders Meet Ahead Of Busy Thanksgiving Weekend
Airport Stakeholders Meet Ahead Of Busy Thanksgiving Weekend
25 November 2019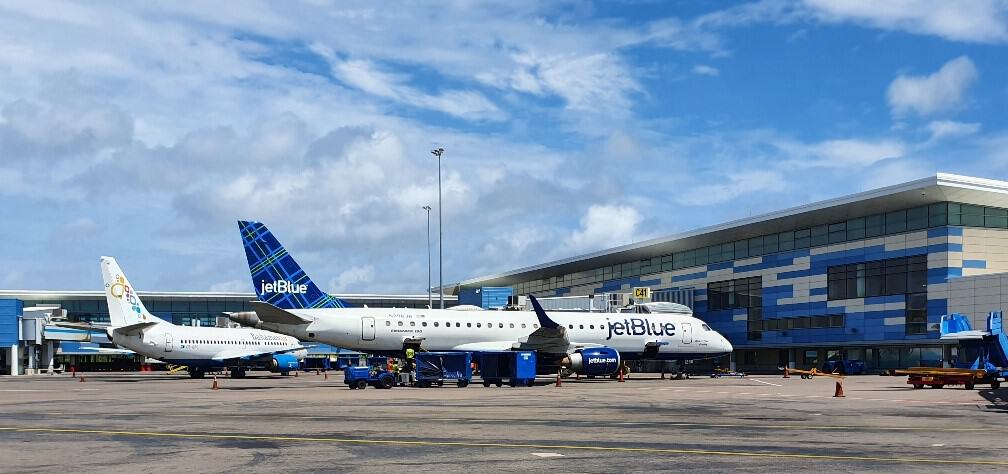 NASSAU, BAHAMAS November 21, 2019— This week, stakeholders at Lynden Pindling International Airport (LPIA) will meet to finalize plans for managing increased traffic over the upcoming holiday period. Officials estimate some 90,000 passengers will move through LPIA's three terminals between Wednesday November 27th and Monday December 2nd as the peak travel season kicks off with American Thanksgiving.  Another surge in passenger traffic is expected between mid-December through to New Year's Day.
On Friday, stakeholders from Nassau Airport Development (NAD), Bahamas Immigration, Bahamas Customs, Airport Authority, US Customs & Border Protection (USCBP), Air Traffic Services (ATS), Airline Operators, Airport Police and the Road Traffic Department will review Standard Operations Procedures (SOPs) and examine contingency plans.
Key consideration will be given to ongoing runway works at the country's major gateway. In June, NAD partnered with BHM for major rehabilitation on Runway 09/27 (soon to be Runway 10/28) and Taxiway India at LPIA.  The works  include  the rehabilitation of the asphalt pavement surface to extend the life of the runway, in addition to the installation of new lighting.
Vernice Walkine, President & CEO of NAD estimates that the runway works will be completed before the end of the year even as the airport team prepares to meet the increase in traffic.  "After coming off of a strong October with 126,575 passengers representing a 6.29% growth YOY, we're anticipating solid numbers in November, December and into early January. For the high season, our goal is to work closely with various stakeholders to mitigate challenges that may result from the increase in traffic. We want to ensure a positive passenger experience for all of our users," she said.
"Throughout Thanksgiving, LPIA will operate as a single runway facility as we continue our efforts to improve the airport. We operated quite effectively during the peak summer days with all stakeholders doing their part.  Contingency plans remain in place for the runway rehabilitation project ensuring that our airport runs in a safe and efficient manner, meeting all international safety standards."
Passenger overall wait times in terminal will factor heavily in the discussions among stakeholders. Particular focus will be placed on managing the flow in pre-security clearance areas, US Customs, Bahamas Immigration and Bahamas Customs during the peak periods of 12 p.m.- 3 p.m.
Airport Authority will fully staff screening areas at LPIA, with processing beginning at 5:15a.m. to accommodate early morning flights. Air Traffic Services has also committed to scheduling sufficient team members to efficiently manage commercial and general aviation arrivals and departures during peak periods.
Passengers should arrive at LPIA three (3) hours ahead of US-bound flights and two (2) hours prior to international and domestic flights. Travellers are also encouraged to communicate directly with their airlines for the latest flight updates and visit www.nassaulpia.com or follow @nassau_airport for operational updates from LPIA.
Flight Search
Enter Airline, Location, or Flight #