"Effective Sunday, June 12, 2022 at 12:01 am, pre-departure testing for travel to the United States is no longer required.  International travelers must continue to show proof of COVID-19 vaccination. More information can be found here: US Ends Covid-19 Test Requirement to Enter Country – Bloomberg
For further travel information, please visit our website www.nassaulpia.com or contact your respective airline."
The first batch of AstraZeneca vaccines – also known as Covishield – arrived at the Lynden Pindling International Airport today on United Airlines flight 1456 from Newark, New Jersey.
The vaccines were received by Prime Minister Herbert Minnis; Health Minister Renward Wells; Foreign Affairs Minister Darren Henfield; National Immunization Manager Nurse Ruth Bastian; Chief Medical Officer Dr. Pearl McMillian; Bahamas High Commissioner to India, Lowell Mortimer; and President of the Bahamas India Association Dr. Anupama Jacob.
The 20,000 doses delivered by United are a gift from the Government of India. The vaccines were pre-qualified by the WHO and received Emergency Use Listing (EUL) approval by the WHO. The vaccines have also received certification from the Caribbean Regulatory System (CRS).
"I would like to thank Prime Minister Modi (@narendramodi) and the people of India for this generous assistance," said the Prime Minister.
United Airlines is the first commercial airline to fly the COVID-19 vaccine to The Bahamas.  United has been proud to put its extensive resources, capabilities and expertise to work over the last several months, teaming up with logistics and pharmaceutical companies around the world to support the distribution of these life-saving vaccines.
According to Mrs. Elaine Foster, United Airlines General Manager in Nassau, the vaccines were flown on United Airlines flight 830 from Bombay, India and arrived in Newark, New Jersey this morning at 5:40am.  They were then safely transported to United Airlines flight 1456 which left Newark at 8:45am and arrived in Nassau just before noon.
According to United, the scientists behind these vaccines and frontline workers, like the team in Nassau, are the real heroes of this pandemic.  The airline has committed to doing its part to safely and effectively facilitate the transportation of vaccines across its expansive global network.
NASSAU, Bahamas – On January 12, 2021 the U.S. Centres for Disease Control and Prevention (CDC) announced that all air passengers flying to the U.S. from a foreign country will be required to show proof of a negative COVID-19 viral test (PCR or Antigen test), taken no more than 3 days prior to the flight. This new regulation will apply to all travellers ages 2 and older, including U.S. citizens and international travellers. The order will go into effect on January 26, 2021.
Furthermore, any person who has tested positive for COVID-19 in the last three months must be prepared to show documentation of recovery, which consists of proof of their positive viral test, coupled with a letter from a healthcare provider or a public health official, providing clearance to travel. Airlines will be responsible for confirming the negative test result or documentation of recovery for all passengers before they board, and will deny boarding to any person who does not provide documentation of a negative test or recovery, or chooses not to take a test.
The Government of The Bahamas has successfully implemented stringent measures to protect its citizens, residents and visitors, and is well positioned to adhere to this new order, seamlessly integrating the CDC's testing requirements into The Bahamas' existing COVID-19 protocols. Currently, visitors to The Bahamas who stay longer than four nights and five days are required to take a rapid antigen test on the fifth day of their stay, with a number of testing sites throughout The Bahamas approved to administer tests. This means travellers and residents alike, readily have access to the viral tests, now required to enter the U.S.
"The Bahamas Government will continue to work in accordance with the CDC to curb the spread of COVID-19, which has been our top priority since the onset of this global pandemic," said Dionisio D'Aguilar, The Bahamas Minister of Tourism & Aviation. "Our journey has not been without bumps in the road, but we have made great strides in combatting this virus as evidenced by the very low case numbers we have now achieved. Visitors to our shores should have peace of mind knowing that we are making every effort to keep The Bahamas safe, and can now offer a turnkey, affordable and reliable testing process that meets U.S. requirements."
All U.S. travellers to The Bahamas as well as Bahamian citizens and residents are required to abide by the CDC's protocols to enter the U.S. An overview of these requirements, as well as FAQs, can be found on the CDC website.
For a list of approved COVD-19 testing sites in The Bahamas, as well as a full overview of The Bahamas' travel and entry protocols, please visit Bahamas.com/travelupdates.
Due to the fluidity of COVID-19, the Government of The Bahamas will continue to monitor cases across the islands and loosen or tighten restrictions as needed. The Bahamas is an archipelago with more than 700 islands and cays, spread over 100,000 square miles, which means conditions and instances of the virus can be different on each of the 16 islands available to welcome visitors. Travellers should check the status of their island destination before travelling, by visiting Bahamas.com/travelupdates.
###
PRESS INQUIRIES
Anita Johnson-Patty
General Manager, Global Communications
Bahamas Ministry of Tourism & Aviation
ajohnson@bahamas.com
Weber Shandwick
Public Relations
Bahamas@webershandwick.com
All incoming visitors must present a COVID-19 RT-PCR Negative (Swab) Test upon arrival with a sample taken within ten (10) days of arrival.  Select individuals will not be required to provide a test:
Children under the age of ten (10)
Private pilots who do not deplane
Bahamian citizens, residents and homeowners who are returning to The Bahamas from English speaking CARICOM countries
Bahamian citizens and legal residents who are returning to The Bahamas from countries where they cannot obtain a COVID-19 RT-PCR (Swab) Test. Proof of their inability to receive a test must be presented upon arrival and the traveler will be required to quarantine for 14 days. Quarantine time may be reduced if the traveler opts to take a test at their expense and receives a negative result.
Bahamian citizens and legal residents who have been out of The Bahamas for less than 72 hours; however they will be required to quarantine for 14 days. Quarantine time may be reduced if the traveler opts to take a COVID-19 RT-PCR (Swab) Test, at their expense, and receives a negative result.
All incoming travelers will be required to complete an electronic Health Visa prior to arriving in The Bahamas at travel.gov.bs. To complete the visa, each traveler will need to upload a negative COVID-19 test result and provide contact information that is crucial for contact tracing purposes. An automated response will be provided upon completion of the Health Visa, and it is essential that travelers present proof of this confirmation upon arrival in The Bahamas.
As The Bahamas reopens to travel and tourism, travellers should be prepared for a slightly different experience at Lynden Pindling International Airport given COVID-19. The safety protocols that individuals are expected to follow may differ from or be stricter than other airports around the world. Travellers are encouraged to inform themselves of these protocols before they travel. Protocols continue to evolve in response to COVID-19 trends, and so additional guidance will be communicated as details are available. The safety and wellbeing of passengers and employees is a top priority for us.
---
What to Do Before You Go
 Find out Health Visa and testing requirements before travel.

All incoming travelers will be required to complete an electronic Health Visa prior to arriving in The Bahamas at travel.gov.bs. For more information Click Here.
All incoming visitors, citizens and residents must present a COVID-19 RT-PCR Negative (Swab) Test upon arrival. Some exceptions apply.  For more information  Click Here.

Check in online (when possible). This will help limit your interaction with airport staff and fellow passengers.
Pack and wear a mask. Passengers are required to wear masks or a face covering in all areas inside and outside the airport. Bahamian government regulations require that all individuals wear a mask or face covering when in public and non-compliance can lead to penalties and fines.

Exceptions: You are dining at food and beverage locations.
You are a child under the age of two.

Arrive early. When flying out of LPIA, plan to arrive at least two hours ahead of time for domestic flights and three hours ahead of time for international flights. This will give you extra time to check in, go through security and allow for a longer boarding process. The current recommended travel times may increase as more people begin to travel.
Plan to meet up or say good-bye outside of the terminal. We are restricting access to the terminal to passengers only. Family and friends picking up or dropping off travellers will not be allowed to enter the airport.

Exceptions:  You are a friend or family member of a passenger requiring mobility assistance.  You are accompanying a minor who is travelling alone.

Visit https://www.bahamas.com/tourism-reopening for more details on the reopening of The Bahamas to international visitors. The page includes important information for visitors and the answers to frequently asked questions.
---
At the Airport
No quarantine will be required upon your arrival; however, travelers who show symptoms of COVID-19 may be transferred to an area away from other passengers for further testing and evaluation. Temperature screenings may take place for all incoming visitors.
Practise physical distancing. Leave 3-6 feet of space between you and others. Follow the spaced floor markers at check-in counters, security screening, customs hall, baggage carousels and other high-traffic areas.
Practise good hand hygiene.

Wash your hands frequently with soap and water (if not available, use hand sanitizer).
Cough or sneeze into your elbow instead of your hand.
Discard used tissues immediately after blowing your nose and wash your hands.

Wear a mask. Passengers are required to wear masks or a face covering in all areas inside and outside the airport. Bahamian government regulations require that all individuals wear a mask or face covering when in public and non-compliance can lead to penalties and fines.

Exceptions:

You are dining at food and beverage locations.
You are a child under the age of two.
---
Airport Protocols
Enhanced Cleaning and Sanitization
Cleaning and sanitization efforts have been increased in all terminals with a particular focus on frequently touched areas such as handrails, counters, self-serve kiosks, x-ray equipment and bins, and baggage carousels.
Hand sanitizer stations have been strategically placed throughout the terminals.
Physical Distancing
Distance markers have been placed at check-in counters, security screening, customs hall, baggage carousels and other high-traffic areas to help passengers abide by physical distancing measures.
Seating in food court areas and hold rooms have been adjusted to encourage physical distancing.
When possible, luggage from multiple flights arriving at similar times will be transported to baggage carousels at separate ends of the arrivals hall in order to allow for the maximum separation of passengers.
When possible, flights will be scheduled to every other gate in order to provide more distance between passengers on different flights.
 Staff Interaction
Plexiglass partitions have been installed at check-in counters, boarding gates and other key areas where passengers interact with airport staff.
Masks will be worn by all staff members.
Gloves will be worn by certain staff members (depending on employer protocols).
Passengers will be asked to hold their own documents and scan their own boarding passes.
Passengers Only
Only passengers travelling on that day will be allowed to access the terminal.
Exceptions will be made for people assisting mobility-reduced passengers or minors travelling alone.
Health Checks (at the discretion of health professionals)
All passengers may have their temperatures taken.
Passengers who present symptoms of COVID-19 will be isolated in a separate area of the airport for further testing and evaluation.
New Carry-On Allowance
In accordance with TSA regulations, passengers can now bring one liquid hand sanitizer container of up to 354 mL (12 ounces) per person in their carry-on luggage. This item will be screened separately from their other liquids and gels.
New Immigration Procedures for Incoming Travellers
Inbound passengers to The Bahamas should expect immigration officials to:

inquire about their travel history
request and validate any necessary health visas and certificates
collect their contact information (for potential use in contact tracing)
Closed Water Fountains & Play Areas
Water fountains and child play areas will remain closed until further notice.
---
Leaving the Airport
 Ground Transportation
A range of ground transportation options are available at the airport including taxis, buses and limousines.

Masks must be worn at all times throughout the journey
Social distancing is required throughout the journey and passengers should not ride in the front seat
Vehicles should reduce the maximum number of passengers by 50%

Rental cars are available (AVIS, BUDGET, DOLLAR and HERTZ). Travellers are required to wear a mask and follow social distancing protocols when in the Rental Car Centre.
Curfew
During your stay there is a mandatory curfew from 10:00 P.M. each evening to 5:00 A.M. the following morning. Be sure you are at your hotel or local place of residence by 10:00 P.M. each evening.
Wear a mask
Wearing a mask or face covering is mandatory within the airport and in all public places throughout The Bahamas including hotels, restaurants, retail stores and other facilities.
Nassau Airport Development Company
Nassau Bahamas
June 8, 2020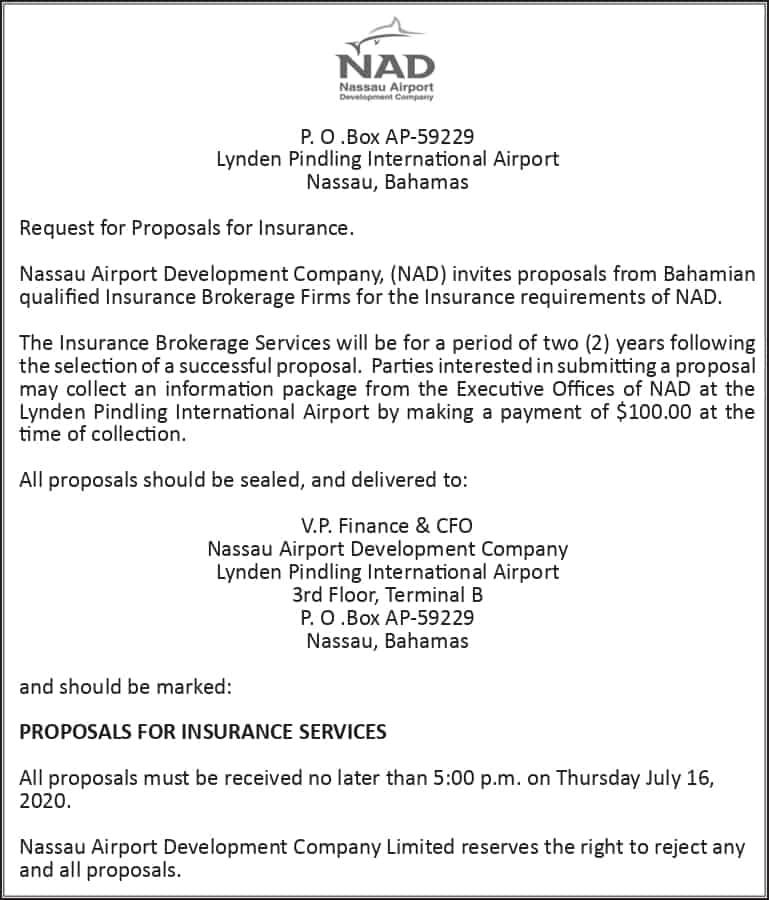 On behalf of our team here at Nassau Airport Development Company (NAD), I want to share important information regarding our airport's response to the coronavirus (COVID-19) outbreak.
As passengers, employees, tenants and partners at Lynden Pindling International Airport (LPIA), your safety is always our first priority. Our comprehensive emergency response plan is currently activated and involves input from all primary stakeholders.
From the beginning of the coronavirus outbreak, we have been in direct contact with the Bahamas Ministry of Health, Bahamas Ministry of Tourism & Aviation, Bahamas Immigration, Bahamas Customs and other local agencies to ensure that our response takes into consideration the entire airport community.
Throughout our terminal buildings, we have placed additional hand sanitizing stations. Our cleaning technicians have also ramped up their activities in terminal, increasing the frequency of cleaning and disinfecting flat surfaces, handrails and door handles. Arriving passengers will also notice that Bahamas Immigration has discontinued self-service kiosks and are now screening individual passengers to determine their specific travel history prior to arriving at LPIA.
To date, there are three confirmed cases (edited March 20, 2020) of COVID-19 in The Bahamas. We recognize that this situation is evolving and we will be updating our website and social media platforms with any new developments impacting our airport community.
I would also like to encourage you to continue to follow the Bahamas Ministry of Health at https://www.facebook.com/MOHBahamas/ for the latest information on the country's overall approach to managing the threat of coronavirus.
You can find the latest coronavirus information as it relates to travel to and from LPIA on our website https://nassaulpia.com/lpia-coronavirus-updates or follow us @nassau_lpia on Facebook, Twitter and Instagram.
We look forward to serving you at LPIA now and into the future. Our commitment is to continue to work with our partners to the safety and well being of our entire airport community.
Sincerely,
Vernice Walkine, President and CEO,
Nassau Airport Development Company Limited
1• Passengers should check-in at least three (3) hours prior to US-bound flights and two (2) hours prior to International departure flights with the exception of early morning flights. LPIA opens at 4:30 a.m. daily. It is recommended that passengers traveling on flights between 6:15a.m. and 7:30 a.m. arrive at the airport at 4:30 a.m. Arriving early allows for sufficient time to check in, clear security, find your gate and enjoy airport amenities.
2• Thoroughly check your documents. Ensure that passports are valid. For US-bound flights, local passengers must be in possession of a US visa or a current police record issued within the last six months.
3• Pack wisely. Restrictions still apply on liquids, aerosols and gels. Remember the 3-1-1 rule: 3.4 ounces or less per container for liquids, gels or aerosols; packed in 1 quart-sized clear plastic zip-top bag; limit of 1 bag per passenger.
4• While waiting on the security lines place coins, keys and any small metal items in the screening bin, remove jackets and outerwear and unpack your laptop and other devices. Be sure to wear comfortable clothing and shoes that can be easily removed. Leave gifts unwrapped. They may be opened for inspection as part of the baggage screening process.
5• Confirm travel details in advance. Days before your flight, check your reservation and determine baggage specifications. Consider travelling outside of the peak departure times. Early morning and evening flights are considered off-peak.
6• Stay connected by checking the airport website www.nassaulpia.com for the latest updates on flight schedules and information on parking, in-terminal services or new security regulations and procedures. Also, be sure to follow your individual airline carriers on social media for more specific flight details.
7• Use your time in-terminal wisely- Pick up last-minute gift items, a snack or magazine at one of our airport stores. Use free airport Wi-Fi to send emails or relax and enjoy our shopping and dining amenities at LPIA.