>
>
Seven Holiday Travel Tips at LPIA!
Seven Holiday Travel Tips at LPIA!
25 November 2019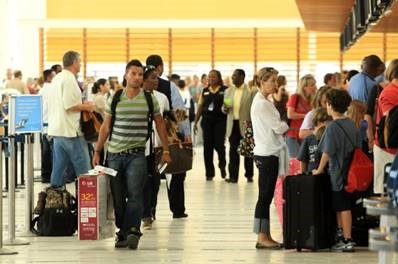 1• Passengers should check-in at least three (3) hours prior to US-bound flights and two (2) hours prior to International departure flights with the exception of early morning flights. LPIA opens at 4:30 a.m. daily. It is recommended that passengers traveling on flights between 6:15a.m. and 7:30 a.m. arrive at the airport at 4:30 a.m. Arriving early allows for sufficient time to check in, clear security, find your gate and enjoy airport amenities.
2• Thoroughly check your documents. Ensure that passports are valid. For US-bound flights, local passengers must be in possession of a US visa or a current police record issued within the last six months.
3• Pack wisely. Restrictions still apply on liquids, aerosols and gels. Remember the 3-1-1 rule: 3.4 ounces or less per container for liquids, gels or aerosols; packed in 1 quart-sized clear plastic zip-top bag; limit of 1 bag per passenger.
4• While waiting on the security lines place coins, keys and any small metal items in the screening bin, remove jackets and outerwear and unpack your laptop and other devices. Be sure to wear comfortable clothing and shoes that can be easily removed. Leave gifts unwrapped. They may be opened for inspection as part of the baggage screening process.
5• Confirm travel details in advance. Days before your flight, check your reservation and determine baggage specifications. Consider travelling outside of the peak departure times. Early morning and evening flights are considered off-peak.
6• Stay connected by checking the airport website www.nassaulpia.com for the latest updates on flight schedules and information on parking, in-terminal services or new security regulations and procedures. Also, be sure to follow your individual airline carriers on social media for more specific flight details.
7• Use your time in-terminal wisely- Pick up last-minute gift items, a snack or magazine at one of our airport stores. Use free airport Wi-Fi to send emails or relax and enjoy our shopping and dining amenities at LPIA.
Flight Search
Enter Airline, Location, or Flight #