LPIA To Begin $20M Runway Rehabilitation Project on June 17—
4 June 2019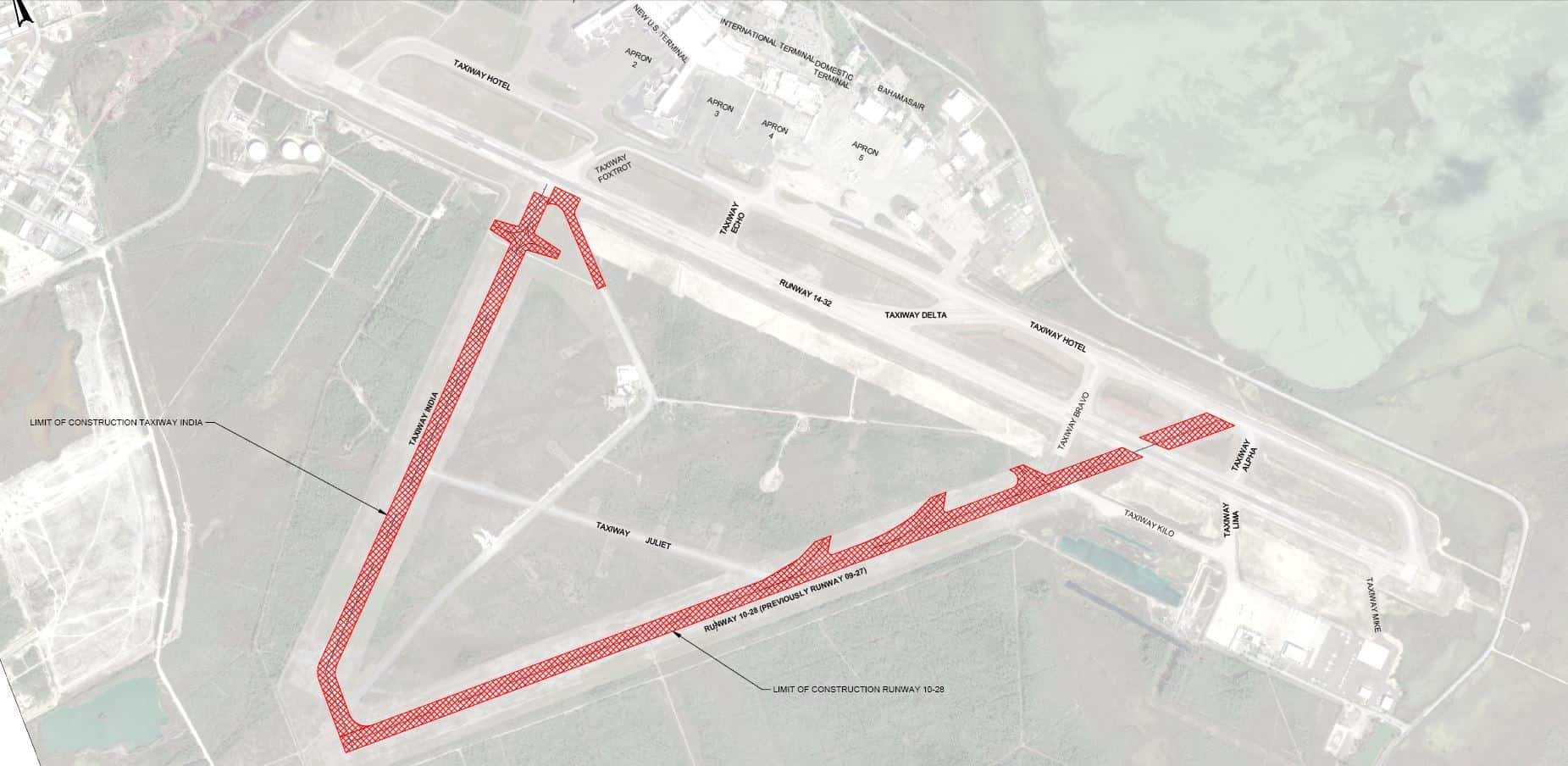 Airport Will Operate On A Single Runway Until Work Completed
NASSAU, BAHAMAS June 3, 2019— On June 17, 2019, Nassau Airport Development Company (NAD) will begin an extensive runway rehabilitation project on Runway 09/27 (soon to be Runway 10/28) and Taxiway India at Lynden Pindling International Airport (LPIA).
According to officials, the work will take place over a four to six-month period with a total capital investment of just under $20 million dollars.  For the duration of the project, LPIA will operate as a single runway facility. NAD has put contingency plans in place to reduce the impact to overall operations. 
Once completed, the project will result in upgrades to asphalt, which will extend the life of the runways at LPIA.  Further, Runway End Safety Areas (RESAs) will be added to reduce the risk of damage to aircraft that overrun the runways. The project will also include the acquisition and installation of new LED approach lights on the runways to help pilots better identify the airport during low visibility operations. 
Vernice Walkine, President & CEO of NAD said the runway rehabilitation is scheduled maintenance that must be done to ensure that LPIA continues to operate as a safe and efficient airport and meet all international safety standards.
"We understand the importance of the upgrades and are now in a position to invest the necessary capital to undertake the project at this time. There was no perfect time to do these necessary works, so we will have to manage the project with the goal of minimizing disruption to ongoing operations. We are working with key airport partners on contingency plans to manage the flow of air traffic and to ensure the usability of the airport's sole runway during the rehabilitation process."
The project will begin during one of LPIA's many peak travel periods, but based on the projected timeline, NAD anticipates that the runway rehabilitation will be in full swing during the slower period of September and October with the goal of having works completed before Thanksgiving.
NAD has implemented contingency measures for continuous aircraft movement at the airport while in single runway operations such as the use of newly acquired equipment to remove disabled aircraft should the need arise, and scheduled maintenance (i.e. paving surfaces, lighting repairs) will be conducted during off peak hours (midnight to 5 am). During this period, LPIA will advise neighboring airports that it cannot be utilized for any airline diversions unless it is an emergency. In the event of inclement weather while the airport is operating with a single runway, ATC will follow existing protocol, suspending services at LPIA until conditions improve.
NAD will also continue to work closely with partners to capture and remove wildlife on the airside and the neighboring areas that might impede operations.
 Walkine continued: "We would like the public to note that it is not uncommon for airports of our size and in this region to operate using a single runway.  Barbados, Trinidad, St. Lucia and St. Maarten all operate using one runway. During this period, we are asking the travelling public to exercise patience when arriving or departing from LPIA, as there will likely be delays resulting from the runway rehabilitation project."
Motorists driving near the intersection of Windsor Field Rd. and Rock Plant Rd. are also advised to pay particular attention to heavy equipment movement in the area once work commences on June 17. Crews will conduct work between sunrise and sunset. NAD is asking all motorists to observe signage in the area and to exercise caution when approaching the intersection. 
 For the latest updates on the runway rehabilitation project, visit www.nassaulpia.com or follow @Nassau_Airport on Instagram and Facebook. 
#   #   #
Photo attached.
Photo caption: LPIA To Begin $20M Runway Rehabilitation Project on June 17. Shown here is Runway 14-32, LPIA's main runway which will remain open while works are being done on its smaller runway and some taxiways highlighted in red. 
Flight Search
Enter Airline, Location, or Flight #