LPIA Partners With Garvin Tynes Autism Unit For Interactive Airport Tour
22 May 2023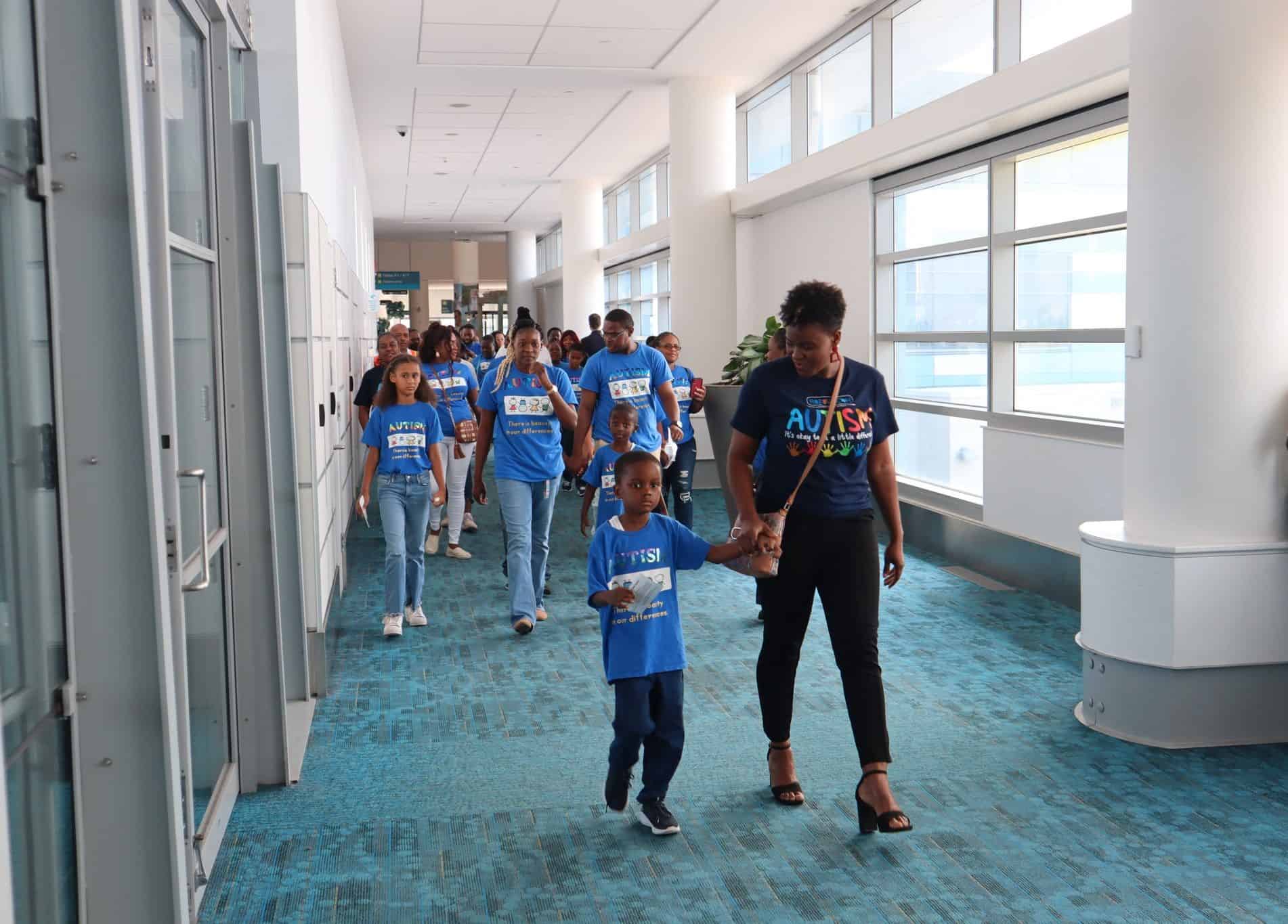 NASSAU, BAHAMAS May 22, 2023—Traveling through a busy airport terminal can be particularly challenging for children on the autism spectrum. Often, sensory issues are heightened when checking in for a flight, moving through security processes in an unfamiliar environment or waiting to board an aircraft.
Last month, students from the Garvin Tynes Autism Unit along with teachers and parents toured Lynden Pindling International Airport to become more familiar with what to expect when travelling. The exercise, organized by Nassau Airport Development Company (NAD) in partnership with Bahamasair and Airport Authority, focused on familiarizing students and parents with airport processes.   Staff members from both Bahamasair and the Airport Authority were instrumental to the event, simulating the check-in and passenger screening process respectively as the students made their way through the airport.  The tour was also an opportunity to further sensitize airport workers to the needs of all passengers.
Jonathan Hanna, NAD's Vice President of Operations, said the tour is in line with the airport's goal of making travel a more inclusive experience. "The airport can be quite overwhelming for persons on the spectrum with all of the lights, sounds and crowds. During Autism Awareness Month, we wanted to take our impact a step further by hosting the students from Garvin Tynes Autism Unit at the airport," Hanna explained.
"Through this experience, we hope to make families feel more comfortable when traveling, for them to know what to expect and for them to see how their children react and respond in a specific environment.  In addition to the tour, we also created a story book outlining the travel experience. The book, which can be downloaded from our website www.nassaulpia.com, can be used as a visual tool for families to help prepare them for any upcoming travels."
Bright lights, announcements over the intercom or something as simple as removing articles of clothing or shoes during the security screening process can trigger a response and, in some instances, can be physically painful for some children on the spectrum.
Parent and REACH board member Guerda Culmer is all too familiar with the challenges of introducing a child with autism to new environments. She accompanied her son, 6-year-old Isiah Culmer on the tour. Isiah was officially diagnosed with ASD (Autism Spectrum Disorder) at age 3. She thanked the airport for giving the students at Garvin Tynes Autism Unit an opportunity to engage and interact with the wider community.
"It's extremely important because in our culture when we think about disability, we think about somebody who is in a wheelchair, somebody for the most part who is handicapped. But when you look at most of our kids, on the exterior you wouldn't be able to say that the child has some challenges. When they see the child having some sort of meltdown, they automatically think you're not a good parent or think, why can't you control this child."
Parents who participated in the tour took away key tips to better prepare for travel.
"I think it more or less opens the eyes of the parents in reference to what to bring with them at the airport meaning things that are going to distract [the children] or take their attention," Culmer said.
"I appreciated that we had a lot of persons at the airport and I witnessed that he wasn't afraid of the crowd per se. As a parent, it's about being prepared and making sure you know exactly where things are in the airport."
 In addition to the tour, the airport community raised nearly $3000 in April for REACH through T-Shirt sales and walkathon registrations. NAD also donated 100 Sunflower Lanyards to REACH and 20 lanyards to children from the Autism Unit at Garvin Tynes. Last November, NAD launched the internationally recognized initiative to help airport workers better identify passengers with hidden disabilities such as autism and provide them with additional support as needed. For more information on the Sunflower Lanyard Program email: sunflower@nas.bs
#    #    #
Photos attached.
Photo Caption 2:  Guerda Culmer and her son, 6-year-old Isiah Culmer tour LPIA with the Garvin Tynes Autism Unit
Media Contacts:   
 Jan Knowles, Vice President, Marketing and Commercial Development  
Nassau Airport Development Company  
Email: jan.knowles@nas.bs 
Phone: 242 702 1000               
Flight Search
Enter Airline, Location, or Flight #