Easter Weekend Nets 75000+ Passengers At LPIA Officials Credit Coordinated Stakeholder Plan For Seamless Operations
26 April 2019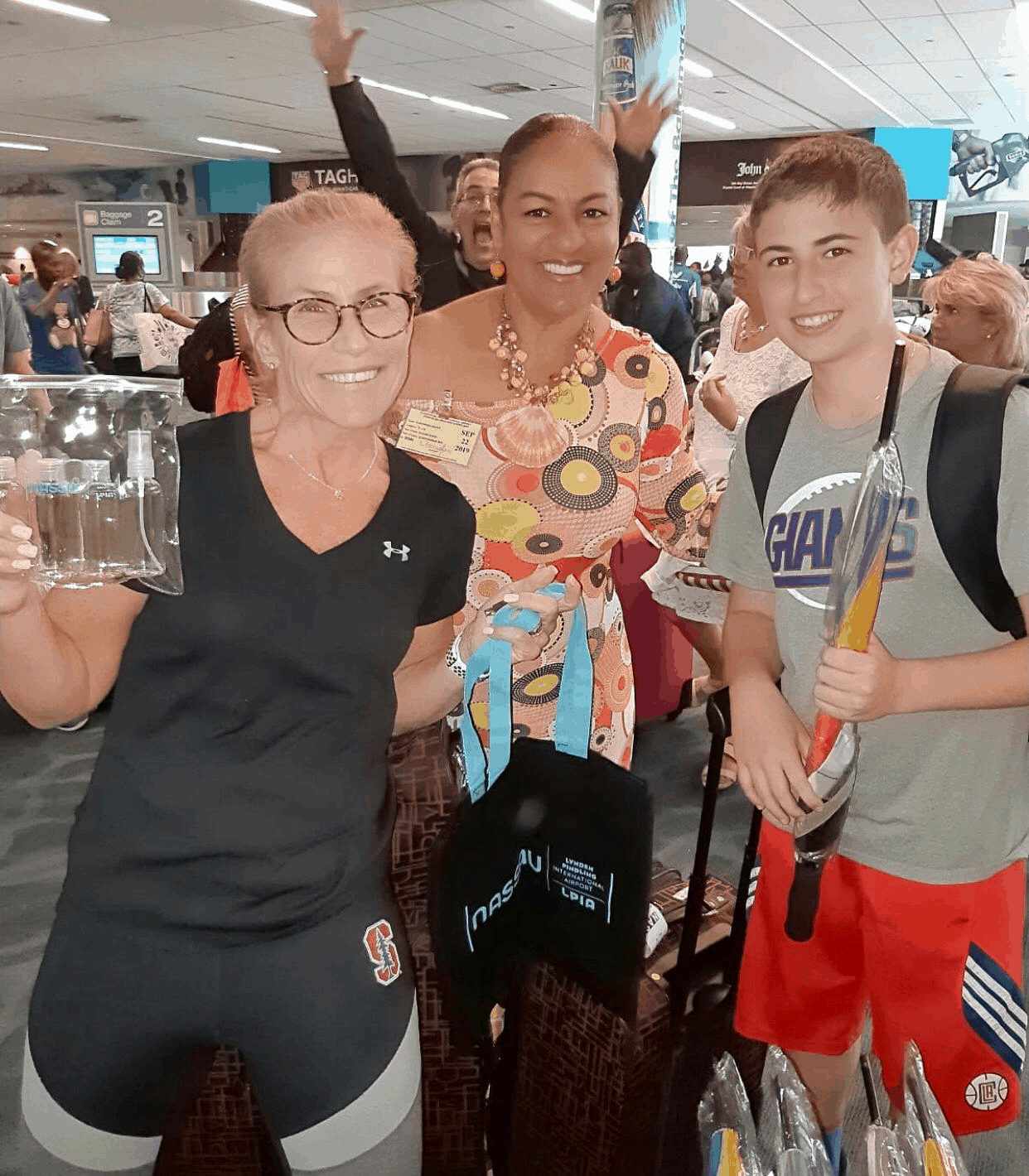 Easter Weekend Nets 75,000+ Passengers At LPIA—
Officials Credit Coordinated Stakeholder Plan For Seamless Operations
NASSAU, BAHAMAS April 25, 2019— Officials at Lynden Pindling International Airport (LPIA) are recapping a successful Easter holiday weekend, touting seamless passenger movement through the country's major gateway.
Projected numbers for the five-day period between April 18 (Maundy Thursday) and April 22 (Easter Monday), estimate that more than 75,000 passengers moved through the three terminal buildings at LPIA. Some 27,000 passengers were processed through the US Departures pre-clearance facility and Bahamas Immigration and Bahamas Customs processed more than 30,000 arriving passengers over the Easter weekend. Air Traffic Controllers also reported just over 2500 total aircraft movements (takeoffs and landings) during the same period.
Airport stakeholders executed newly adopted Standard Operating Procedures (SOPs) during the peak period, mitigating congestion in terminal and on the airside. The Hon. Dionisio D'Aguilar, Minister of Tourism & Aviation, credits this coordinated effort by key agencies at the airport for the high levels of operational efficiency at LPIA over the past weekend.
"We have been working diligently with primary stakeholders to ensure that the increased traffic being experienced at the airport is met with an effective plan to manage higher passenger numbers and aircraft movement at LPIA," Minister D'Aguilar said.
"My ministry will continue to work directly with our partners at the airport to ensure that LPIA is equipped and prepared to meet new demands in air arrivals to the destination. I'm proud to say that over the Easter holiday weekend all of the agencies worked together towards the common goal of providing a high level of service to persons arriving and departing from LPIA."
In February, passenger numbers were up 21.9% year-over-year and up 13% in March 2019. With growth trends remaining consistent through April, agencies at the airport were prepared to manage higher volumes this past weekend. Vernice Walkine, President & CEO of NAD commended LPIA stakeholders for adjustments made to accommodate the significant increase in passenger numbers.
"Overall, we are quite pleased with how well the Easter holiday weekend went from an operational standpoint. We saw improvements in efficiency both in terminal and on the airside. There were a few incidents that were quickly mitigated, demonstrating further that all stakeholders at LPIA have indeed developed strategies and contingency protocols to ensure operations run smoothly even with strong passenger numbers," Walkine said.
"On the airside, the weekend saw a significant increase in aircraft movement, particularly on the Thursday before and the Monday after Easter. Even with the increased traffic on the airside, there were no significant delays or congestion issues. This demonstrates our capacity to handle heavy traffic on the tarmac."
Over the Easter holiday weekend, LPIA's operations plan focused on processing areas including pre-board screening in the US Departures terminal and the International/Domestic Departures terminal. Agencies also paid close attention to staffing levels as well as queue management in US Customs and Border Protection, Bahamas Immigration and Bahamas Customs.
During the peak periods between 12pm – 3pm, Bahamas Immigration processed large families with young children and senior citizens on separate lines to keep wait times in the hall at a minimum. NAD deployed Line Management Agents (LMAs) to provide support and manage passenger flow in the US Departures Terminal check-in hall.
LPIA stakeholders comprise of Bahamas Immigration, Bahamas Customs, Airport Authority, US Customs & Border Protection (USCBP), Nassau Flight Services (NFS), Air Traffic Services (ATS), Airline Operators, Nassau Airport Development Company's Operations and Parking & Ground Transportation teams, Airport Police and the Road Traffic Department.
Media Contacts:
Jan Knowles
Vice President of Marketing & Communications
Nassau Airport Development Company
Jan.knowles@nas.bs
or
Shonalee Johnson
Managing Partner
Windward Public Relations
#29 Windward Road
Nassau, Bahamas
Email: sjohnson@windward-pr.com
Office: 1-242-601-3743
Mobile: 1-242-456-4797
www.windward-pr.com
Flight Search
Enter Airline, Location, or Flight #