Nassau, Bahamas — Today, major rehabilitation work will begin on Runway 09/27 (soon to be Runway 10/28) and Taxiway India at Lynden Pindling International Airport (LPIA). Nassau Airport Development Company (NAD) has partnered with local firm Bahamas Hot Mix to complete the capital project valued at just under $20 million dollars.
The rehabilitation exercise will result in required upgrades to asphalt, extending the life of the runways at LPIA. Runway End Safety Areas (RESAs) will also be added to reduce the risk of damage to aircraft that overrun the runways and new LED approach lights will be installed to assist pilots during low visibility operations.
Over the past year, internationally recognized independent pavement consulting company, Golder Associates Ltd. (Golder), was contracted to work closely with NAD's Airside Operations & Public Safety team and to conduct pre-engineering, design, tender preparations and contract administration services for the runway rehabilitation project.
In April 2019, NAD initiated a Request For Tenders (RFT) to six qualified companies (four international and two Bahamian firms) to submit bids for asphalt paving services for the project. A total of four bids were received and submitted to the independent pavement consultant for evaluation including three international companies (United States, Canada and Costa Rica) and one Bahamian firm.
After all of the bids were carefully evaluated, Golder recommended that the contract be awarded to Bahamian asphalt paving company Bahamas Hot Mix (BHM). Golder determined that the company submitted the most competitive bid and met all of the specifications required to complete the project in the most efficient, cost effective and timely manner. In recent years BHM has successfully delivered Runway Projects at the following airports: Marsh Harbour -2006, Norman's Cay – 2013, Bimini -2015, Staniel Cay -2015, Hog Cay -2016, and Grand Bahama International Airport -2016. In addition, in 2009, BHM would have successfully remediated significant paving works on LPIA's main runway (14/32) after its reconstruction from 2004-2006.
Its team of 150 staff has repeatedly delivered Bahamas Civil Aviation Authority (BCAA) and Federal Aviation Administration (FAA) compliant Projects, utilizing the BHM International Organization for Standardization (ISO) accredited operating procedures for 9001 Quality Assurance and Control, 14001 – Environment, 17001 – Compliance Testing and 18001 – Safety. It is NAD's expectation that the LPIA airside pavement rehabilitation project will be delivered safely, to specification, on time and on budget.
Starting today, LPIA will begin operating as a single runway facility and this is expected to continue over the next four to six months. Airport stakeholders have activated contingency plans that should assist with reducing impact to overall operations at the country's major gateway. LPIA will continue to operate a safe and efficient airport, meeting all international safety standards.
NAD officials are advising members of the travelling public to exercise patience when arriving or departing from LPIA, as there will likely be delays resulting from the runway rehabilitation project. Motorists using the intersection of Windsor Field Rd. and Rock Plant Rd. are asked to approach the area with caution, pay particular attention to signage in the area and be aware of heavy equipment movement in the area starting this week. Crews will conduct work between sunrise and sunset.
Based on the projected timeline, NAD anticipates works being completed before the busy Thanksgiving travel period. For the latest updates on the runway rehabilitation project, visit www.nassaulpia.com or follow @Nassau_Airport on Instagram and Facebook.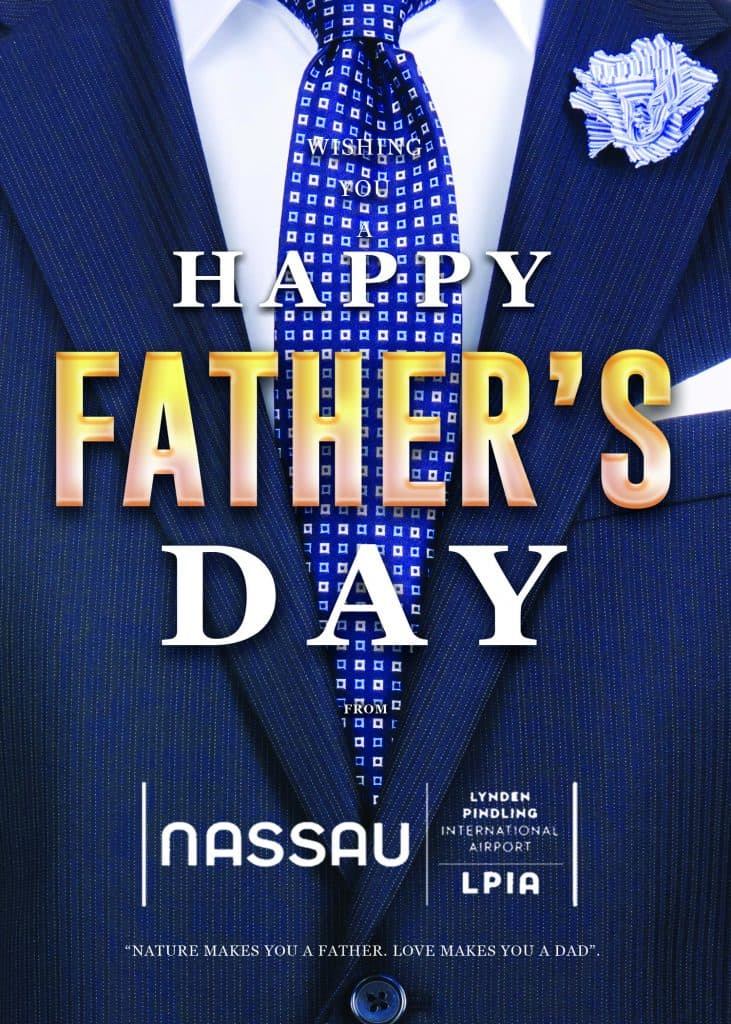 A True Hero
© Julie Mills
Published: September 2014
What makes a man a hero?
I've often thought this through.
It's someone who is macho?
It's someone who is true?

No, that is not a hero.
He's just a simple man.
Always there when things go wrong
and who does the best he can.

He lends a strong shoulder
To ease the flow of tears
He holds high the lantern
To drive away your fears.

His smile was just enough
To give encouragement.
His frown more than adequate
To make one soon relent.

When some had need of guidance
His ears he'd freely lend
Advice came in abundance
You chose, not him could you offend.

He had no need of medals
Or glory this is true.
That's why, dear Grandpa
Our hero has to be you.
Nassau, Bahamas; June 9, 2019 – Vantage Airport Group, a leading global airport investor, developer and manager, has marked the successful delivery of its second biennial operations workshop, held this year in Nassau, The Bahamas with support from Nassau Airport Development Company (NAD), operators of Lynden Pindling International Airport (LPIA).
Nassau Airport Development Company (NAD) is a Bahamian company owned by the government of The Bahamas and operated by Vantage, making LPIA part of Vantage's worldwide network of airports.
Almost 40 airport operations professionals from across the Vantage network attended the two-day immersive workshop, which focused on emergency preparedness and response, outcomes and continuous learning. The workshop agenda included presentations, tabletop simulations and small group work on the latest on emergency planning, reporting and investigation, and recent technological advancements impacting the spectrum of airport operations, from passenger screening and security to training and incident management.
"One of the advantages of being part of the Vantage network is the opportunity to share best practices and learn from one another's experiences," said Lori Chambers, Senior Director, Operations, Vantage Airport Group. "We work hard to foster a culture of collaboration, rooted in the principles of safety and security, across our network of best-in-class airports, and this workshop is a great example of that approach."
"We are so pleased to host operations colleagues from across the Vantage network. Beyond the valuable shared learning on the subject of emergency management, this event offered NAD an opportunity to showcase the operational excellence our team delivers at LPIA every day," said Deborah Coleby, Vice President, Operations, NAD.
###
Photo attached.
Photo caption: Operations workshop delegates receive hands-on training with the latest virtual reality and simulation tools developed by Vantage to support safe operations at its network of global airports, including Lynden Pindling International.
About Vantage Airport Group
Passionate about people, performance and place, Vantage Airport Group is a leading investor, developer and manager of airports around the world. Since 1994, Vantage has been making airports more efficient, profitable, sustainable and connected to the communities they serve. Vantage has lent its expertise to more than 30 airports in its 25-year history, taking 20 from public to private management. Its current network is composed of ten airports, including LaGuardia Terminal B in New York and Midway International Airport in Chicago. Vantage is also JetBlue Airways' preferred development partner for the international terminal redevelopment project at New York's John F. Kennedy International. Together, Vantage airports served more than 57.7 million passengers in 2018, travelling on 150 different airlines. For more information on Vantage's industry-leading approach, network airports and career opportunities, visit vantageairportgroup.com.
About Nassau Airport Development Company
NAD is a Bahamian company owned by the Government of The Bahamas and operated by Vantage Airport Group, a Canadian airport development and management firm. In April 2007, NAD signed a 30-year Lease with the government to manage and operate LPIA on a commercial basis while providing Bahamians with opportunities for business and investment. In 2019, the Lease was extended a further 20 years to 2057.
NAD Seeks Partner to Operate Multiple Retail Concessions
June 8, 2018
Nassau Airport Development Company Limited (NAD) is seeking an experienced partner to design, build, finance and operate multiple, world class, retail concessions at The Lynden Pindling International Airport.
NAD is excited about the prospect of expanding its commercial offering to include duty free and other special items that will appeal to the complete spectrum of passengers served by the airport.
More information about this exciting opportunity to elevate the airport's retail  options is available in the attached document.  
Request For Proposals – Multi Unit Retail Concession June 8 2018
On Wednesday November 29, 2017, stakeholders at Lynden Pindling International Airport (LPIA) will conduct a full-scale emergency exercise. The drill scenario will begin at 6 p.m. with a call to NAD's Operations Center from an MD80 aircraft inbound from 'Safe-ville' declaring an emergency landing at LPIA.
Local and international aviation regulations require airports to establish an emergency plan commensurate with the aircraft operations and other activities conducted at the airport. Regulations also mandate that a full-scale emergency exercise should be conducted at intervals not exceeding two years to evaluate the Emergency Plan.
In addition to passengers and airline crew, teams from local emergency response agencies including the Royal Bahamas Police Force, Royal Bahamas Defense Force, Civil Aviation Authority, Bahamas Air Navigation Services (BANS), Bahamas Air Accident, Investigation and Prevention Unit (BAAIPU), National Emergency Management Agency (NEMA), Emergency Medical Services (EMS), Airport Authority, MED Evac, Bahamas Red Cross Society, Princess Margaret Hospital, Doctors Hospital and Nassau Airport Development Company (NAD) will participate in the drill. Volunteers will pose as crewmembers and passengers involved in the incident.  The most recent emergency drill exercise at LPIA took place in December 2015.
Deborah Coleby, NAD's Vice President of Operations says putting LPIA's emergency plan to the test allows all agencies involved to assess their individual level of preparedness and orchestrate a coordinated response.
"Upon completion of the exercise, a hot debrief will be conducted and a final report generated will provide feedback by local and international evaluators. Improvements are made based on the findings of the final report and the the airport's Emergency Plan is updated accordingly," Coleby explained.
Wednesday's exercise is expected to last approximately four hours. Passengers are advised that air travel to LPIA will not be impacted during the drill. NAD encourages travelers to proceed with their travel plans as scheduled.  Members of the general public are also advised that there will be emergency response vehicles in the vicinity of the airport during the drill.
The coming days are among the busiest for LPIA operations, with thousands of people travelling for Thanksgiving. Keep your spirits bright with these travel tips.
Get mobile! Confirming travel details, checking in and seeing what amenities are offered at LPIA and onboard is all easily done from the convenience of your smart phone. (Just remember to pack a charger!)
Pack wisely. Check with your local pre-board screening authority for rules about carry-on baggage. Restrictions still apply for liquids, aerosols and gels so remember the 311 rule: 4 ounces or less per container for liquids, gels or aerosols; packed in 1 quart-sized clear plastic zip-top bag; limit of 1 bag per passenger.
Allow for extra time to get to LPIA. Anticipate extra hustle and bustle at the airport, especially on Friday November 24 and Saturday November 25.  Arrive early to check in, clear security and head to your gate with time to relax.
Lineup for screening? Take advantage of the wait by placing coins, keys and any small metal items in the screening bin and unpacking your laptop from its bag.
Pack a little extra patience. Thanksgiving is among the busiest times for LPIA, and we appreciate your understanding as we work to keep people, bags and planes moving.
Happy travels! Whether you're heading to a family dinner, going shopping or returning home, enjoy your trip.
From all of us at LPIA, best wishes for a very happy Thanksgiving.
Winter is coming for one deserving student from The Bahamas!
The second recipient of Vantage Airport Group's International Education Award is Michelle Morris. The annual $7,500 tuition award is provided by Vantage Airport Group in partnership with LPIA and Kamloops Airport, two of its network airports. It is awarded to one student from The Bahamas who enters or continues their studies in an undergraduate program at Thompson Rivers University (TRU) in either business or tourism.
Michelle is set to pursue an education in the Bachelor's of Business Administration undergraduate program. She is one of a growing number of Bahamian students at the Kamloops university. Since its introduction in 2015, the award has helped garner increasing interest in TRU from students from The Bahamas. In fact, the university welcomed 26 students from The Bahamas for the Fall 2017 semester up from 6 in 2016, a 500% increase in one year!
Not only does the award help facilitate a first-class education at TRU, it offers students the opportunity to experience a new culture, a new city and new weather (hint: there is snow!) in Kamloops, B.C.
We are pleased to continue partnering with Vantage, Kamloops Airport and TRU, and to be a part of the educational journey for Bahamian students.
The Vantage Airport Group International Education Award will be available again for the Fall 2018 semester at TRU. Interested applicants will find details about the award's eligibility and how to apply on TRU's website in March 2018. For more information about studying at TRU, visit TRU.ca/truworld.
Learn more about Vantage's global network.